On May 10, the Massachusetts Department of Correction (DOC) received two awards — one from the Massachusetts State Senate and one from the Department of Environmental Protection. The awards were for "outstanding performance and achievement" in drinking water programs at the MCI Norfolk, Cedar Junction and Pondville.
See: deeperthanwater.org/gallery for a previous filter received at the start of our campaign
Earlier that week, we received a makeshift water filter made from a t-shirt from one of our inside organizers at MCI-Norfolk. You can see the filter below, discolored brown and with black shards of metal throughout, likely from the deteriorating pipes at the prison. The water at MCI-Norfolk remains unfixed and undrinkable, no matter how hard the state of Massachusetts is trying to cover it up by giving these undeserved awards. The award from the Department of Environmental Protection is particularly egregious, as this is the department responsible for keeping the DOC accountable to providing clean and potable water for prisoners.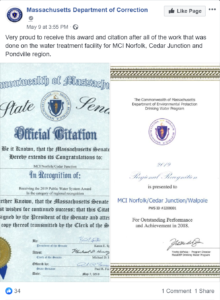 Please take a minute today to send three emails, demanding that the awards be revoked and that the Department of Public Health and the Massachusetts State Senate stop covering for prisons that are failing to provide basic human needs to those who are incarcerated:
Yvette dePeiza, director of the Drinking Water Program for the Mass Department of Environmental Protection [

yvette.depeiza@state.ma.us

] 

click here to use our template 



State Senator Karen Spilka [

Karen

.

Spilka

@masenate.gov

]

and State Senator Paul R. Feeney [

paul.feeney@masenate.gov], representing the Norfolk region of Massachusetts on the State Senate
click here to use our template 
Let the people responsible for this award 
know how you feel.