Make sure Charlie Baker reads this message: tweet | email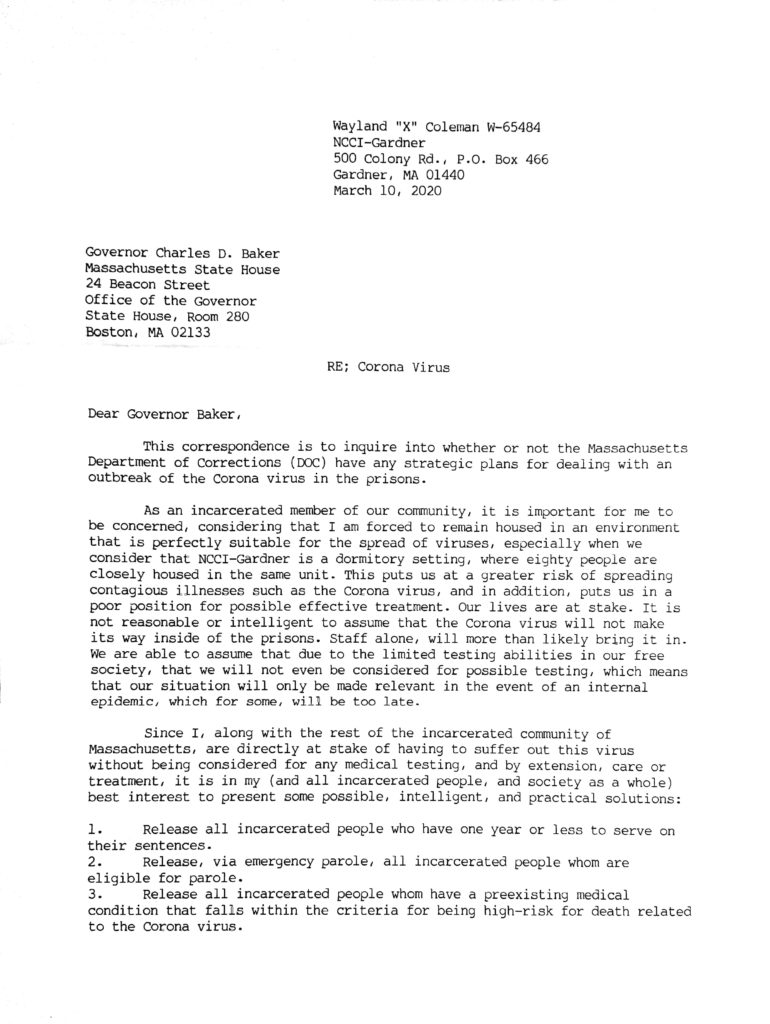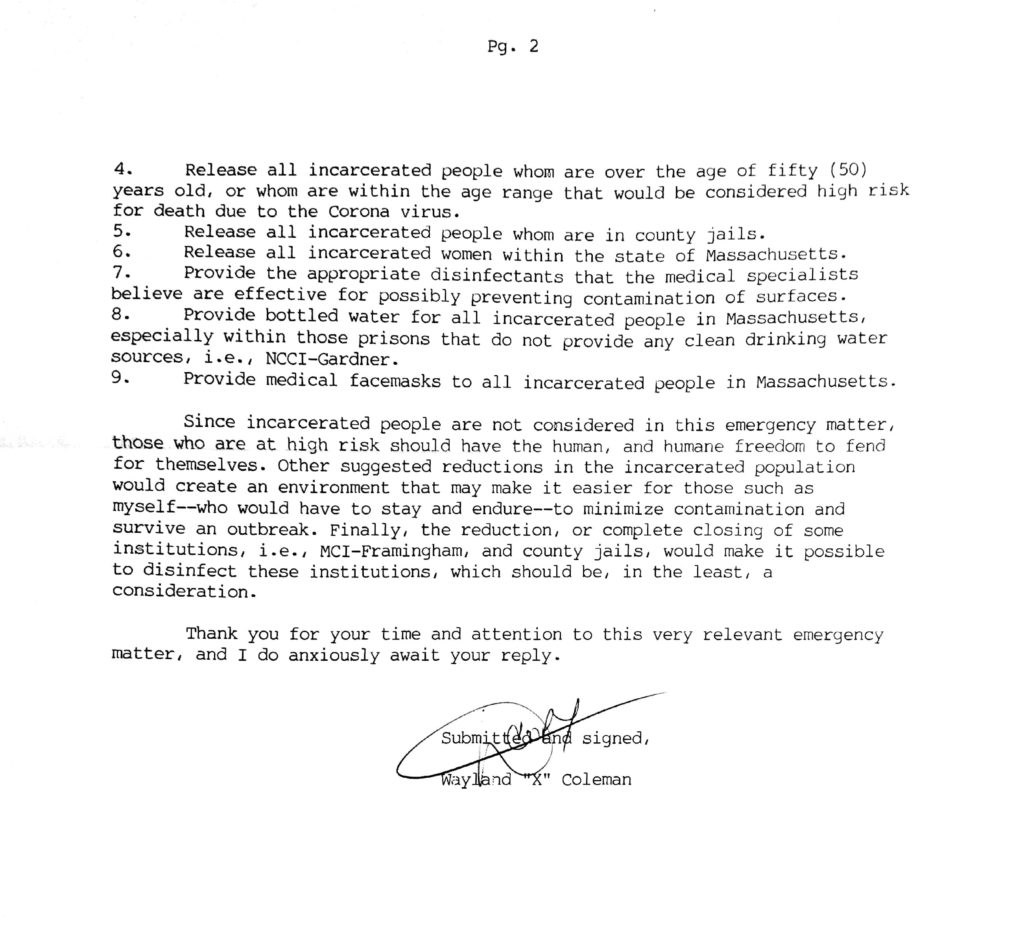 Full text:
Dear Governor Baker,
This correspondence is to inquire into whether or not the Massachusetts Department of Corrections(DOC)have any strategic plans for dealing with an outbreak of the coronavirus in the prisons.
As an incarcerated member of our community, it is important for me to be concerned, considering that I am forced to remain housed in an environment that is perfectly suitable for the spread of viruses, especially when we consider that NCCI-Gardner is a dormitory setting where eighty people are closely housed in the same unit. This puts us at a greater risk of spreading contagious illnesses such as the coronavirus, and in addition, puts us in a poor position for possible effective treatment. Our lives are at stake.
It is not reasonable or intelligent to assume that the coronavirus will not make its way inside of the prisons. Staff alone will more than likely bring it in. We are able to assume that due to the limited testing abilities in our free society, that we will not even be considered for possible testing, which means that our situation will only be made relevant in the event of an internal epidemic, which for some, will be too late.
Since I, along with the rest of the incarcerated community of Massachusetts, are directly at stake of having to suffer out this virus without being considered for any medical testing, and by extension, care or treatment, it is in my (and all incarcerated people, and society as a whole) best interest to present some possible, intelligent, and practical solutions:
Release all incarcerated people who have one year or less to serve on their sentences.
Release via emergency parole, all incarcerated people whom are eligible for parole.
Release all incarcerated people whom have a preexisting medical condition that falls within the criteria for being high-risk for death related to the coronavirus.
Release all incarcerated people whom are over the age of fifty (50) years old, or whom are within the age range that would be considered high risk for death due to the coronavirus.
Release all incarcerated people whom are in county jails.
Release all incarcerated women within the state of Massachusetts.
Provide the appropriate disinfectants that the medical specialist believe are effective for possibly preventing contamination of surfaces.
Provide bottled water for all incarcerated people in Massachusetts, especially within those prisons that do not provide any clean drinking water sources (i.e., NCCI-Gardner).
Provide medical facemasks to all incarcerated people in Massachusetts.
Since incarcerated people are not considered in this emergency matter, those who are at high risk should have the human, and humane freedom to fend for themselves. Other suggested reductions in the incarcerated population would create an environment that may make it easier for those such as myself–who would have to stay and endure–to minimize contamination and survive an outbreak.
Finally, the reduction, or complete closing of some institutions, i.e. MCI-Framingham and county jails, would make it possible to disinfect these institutions, which should be, in the least, a consideration.
Thank you for your time and attention to this very relevant emergency matter, and I do anxiously await your reply.
Submitted and signed,
Wayland "X" Coleman