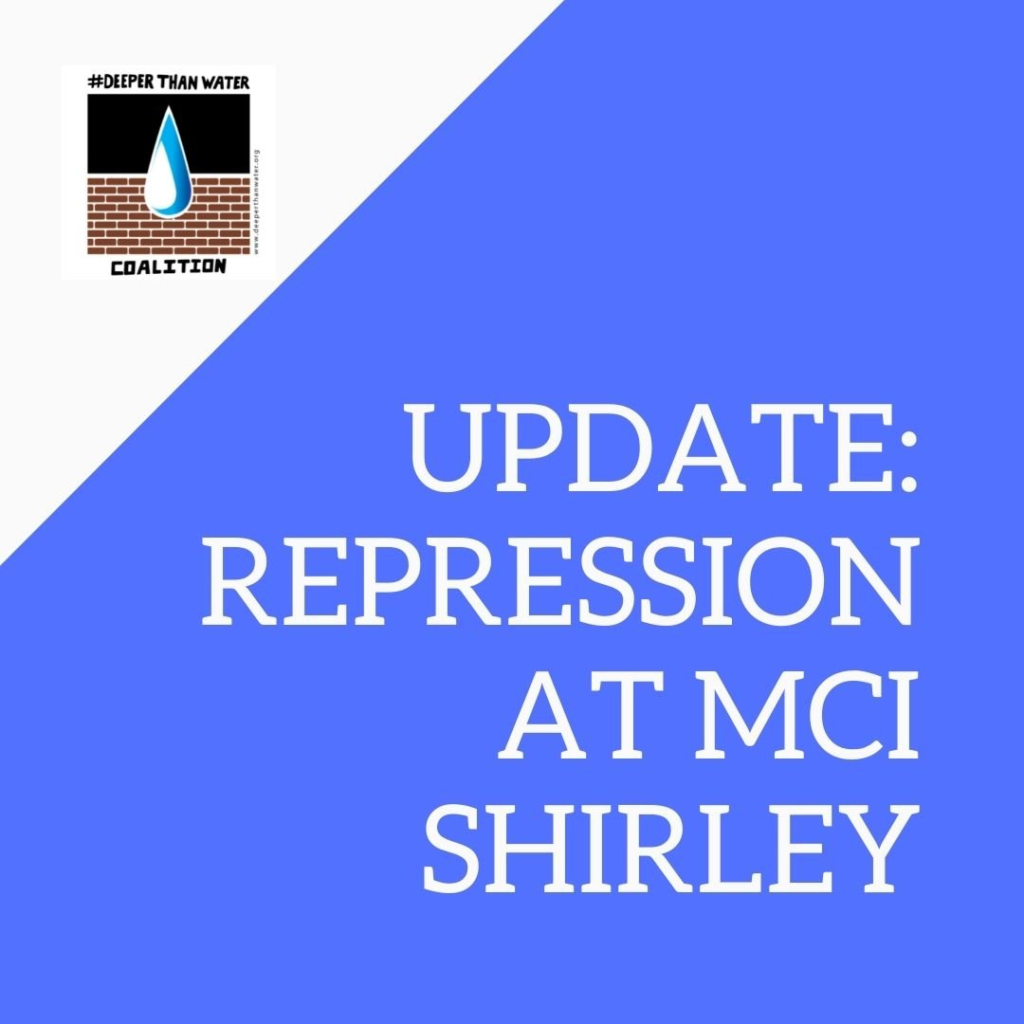 On 8/17, we reported out the story of Officers Chao and Favye (fah-vee) assaulting Jensen Peraza-Rivera and Swanie Burnett, and the following cover up and repression by administrators and staff at MCI Shirley.
Jensen Peraza-Rivera and Swanie Burnett have been transferred to MCI Concord and MCI Norfolk.
This week:
– Continue to make calls
– Write to Jensen and Swanie, who have been transferred out of Shirley
– Constituents of Sen. Eldridge and Rep. Keefe, please DM us on Facebook or Twitter for a specific call script for your electeds
For calls:
Call targets:
1. MCI-Shirley Superintendent: (978) 425-4341, press 2 to dial an extension, then 2 again to reach the medium security prison, then dial ext. 4200
2. Governor Baker: (617) 725-4005
3. Commissioner Carol Mici: (508)-422-3302
Script:
Hello, my name is [ your name] and I am a friend/concerned community member calling on behalf of incarcerated individuals recently assaulted by prison guards at MCI-Shirley and witnesses to that incident. My demands are:
1) Dismiss all witnesses' and the victim's disciplinary tickets
2) Drop any legal charges against Jensen and any incarcerated witness or victim
3) Reinstate jobs and single cells to those who did not plead guilty and were sent to solitary confinement
4) Do not re-classify Jensen and Swanie to Souza-Baranowski
5) Relieve Officers Chao and Favye (fah-vee) of duty, and all staff and administrators complicit in the assault and cover up
Please get back to me when these demands have been met.
For letters:
Rules:
– All mail will be photocopied, so don't include photographs or other items
– No glitter, crayon, marker, colored inks, etc
– Black or blue ink on lined or white paper only
– Sender name on the envelope and in the letter must match
Sample messages:
– Hi my name is __________________
– I heard about the attack you all experienced at Shirley and am writing to express my support for you
– You are not forgotten
– We are fighting for all of you
Make it your own. The goal is just to show we have their backs!
Addresses:
Swanie Burnett, W109897
MCI-Norfolk
P.O. Box 43
Norfolk, MA 02056
Jensen Peraza-Rivera, W115532
MCI-Concord
P.O. Box 9106
Concord, MA 01742