Earlier this year, the parole board sent a letter to our friend and comrade, Michael Mauney (aka Country), telling him he'd have a hearing in March for his parole. A few weeks later, they pulled the rug out from under him, telling him it was a clerical error and that he won't be up for a hearing for a few more years.
Refusing to give up on Country's freedom, his lawyer, friends, and family will be seeking clemency for him this year. In order to put together a packet in support of his clemency, we need support letters from the community.
Will you join us in writing a letter of support for Country?
Your letter can include: how you know Country, reasons you believe he is ready for release, and any support (emotional, financial, housing, rides to appointments, etc) that you would be willing to provide to assist in his transition back to the community. Whether you know Country personally or not, you can draw from the letter he's written for the community below.
Letters should be addressed to Governor Maura Healey and the Parole Board (12 Mercer Road, Natick, MA 01760) and sent directly to Country's lawyer at mwaryasz@gmail.com.
Please submit your letters by the end of March 2023.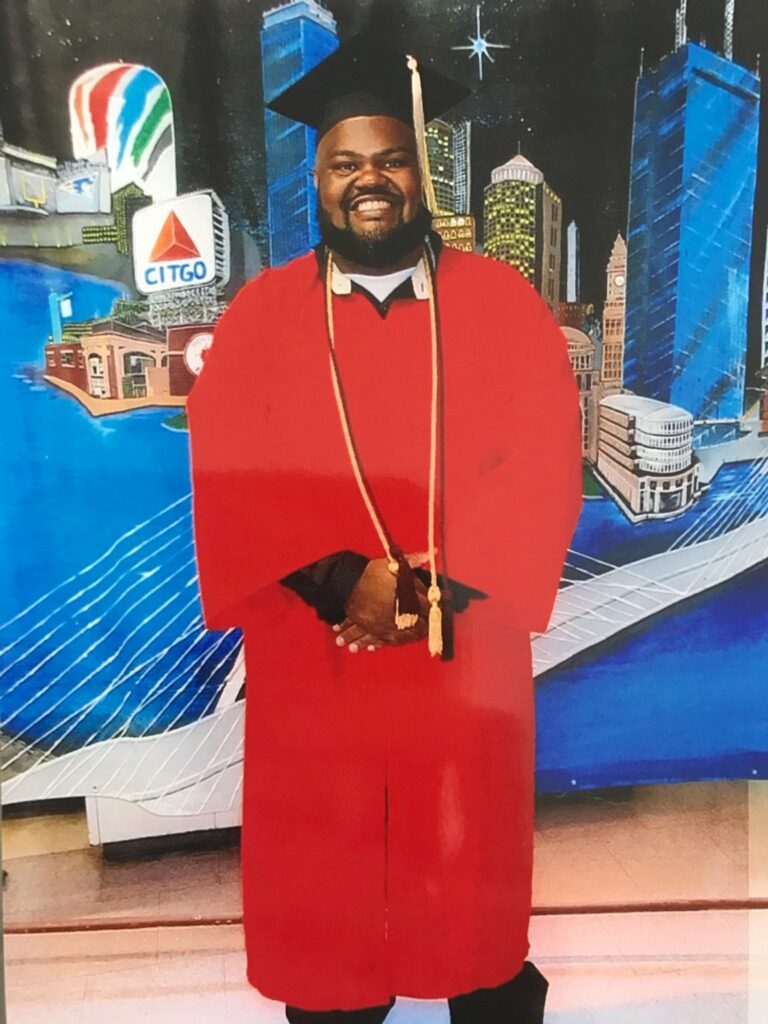 —–
From Country:
Dear friends, family, and associates,
I am currently in the 21st year of incarceration for an altercation that resulted in he death of another person. At the time I was a 22 year old with a drug and alcohol addiction, who had ran away from home at the age of 16, and soon found myself incarcerated as a juvenile.
Shortly after my arrival at Shirley Maximum security prison I enrolled in barber school and received an earned license with the Massachusetts State Board of Barbers. Soon after that I was transferred to the medium security prison MCI-Norfolk.
I have remained at MCI-Norfolk since 2008. For the first 3 years I concentrated on working in the mainline kitchen and trying to enter the Boston University prison education program. After unsuccessfully taking the entrance exam three different times, I finally succeeded on the fourth try and eventually earned my BLA with Magna Cum Laude honors in 2019. I also obtained my welding license with Mass DOT in 2013.
For the past 12 years I have worked in the maintenance shop of MassCorr correctional industries. I work as a handyman doing many different jobs to maintain the general upkeep of the industries building, a job that carries a long list of responsibilities.
To finally address my alcohol and drug problem, I entered the Correctional Recovery Academy offered here while simultaneously doing AA/NA meetings, a practice that continues to this day. My involvement in programing, over the years, has shown me there is nothing that I cannot do sober and drug free. Especially if I work hard enough at it, one day at a time.
My life today is heavily centered around Restorative Justice practices, the African American Coalition Committee activism, and promoting prison education, and community service. I see my involvement as a way for me to tryand help someone see their future a little differently. To foster within them a more positive attitude with the hope they take to heart some of the advice and wisdom I have to offer because change is real.
My family and friends have been very supportive over the years through visits, letters , and telephone calls. We have managed to keep each other abreast of the many changes each other have experienced, additions to the family, graduations, marriages, etc. For all of us this journey has not been easy, but through it all we have done our best to remain connected as one.
If released, I will live with my Aunt Melody and Uncle Rufus in Lexington Kentucky. I will work in some capacity for the Hope Center in Lexington, and plan to pursue a career as paralegal. I also plan enroll in divinity school when established in Kentucky.
If you feel that you could write a letter of support of my release, I would greatly appreciate it. Please contact my attorney as soon as possible if you have any questions or need advice as to the content of your support letter: Michael A. Waryasz, mwaryasz@gmail.com.
Thank you for your time, consideration, and support in this most important endeavor.
Sincerely,
Michael L Mauney aka Country
P.O. Box 43
Norfolk, MA 02056